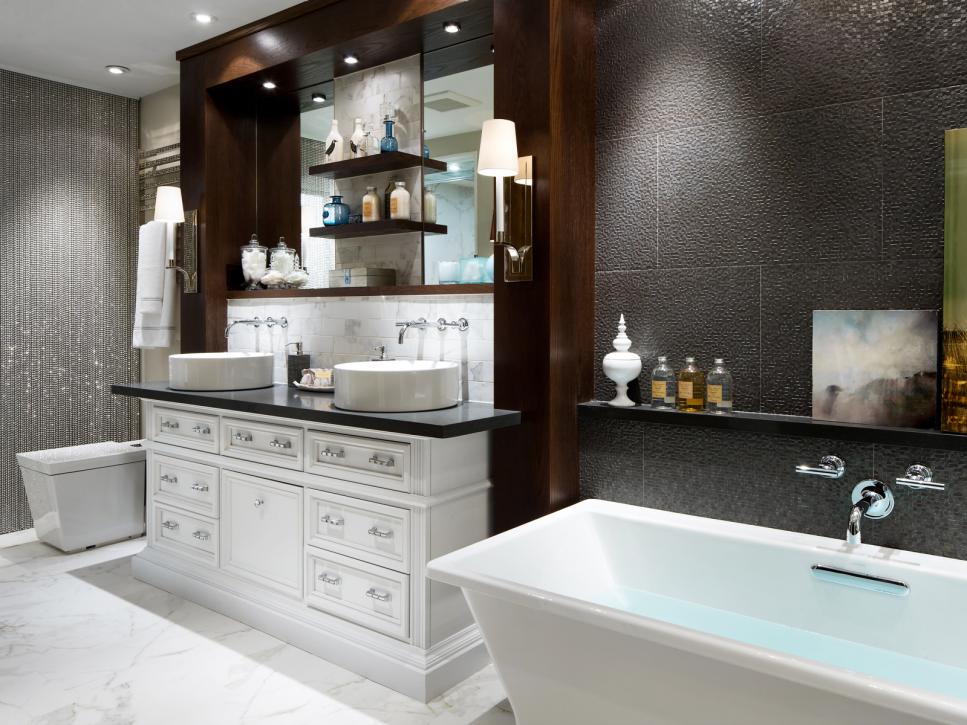 Many people have a craze of decorating their home in the most luxurious and appealing way. They are very selective in choosing furniture, lights and other accessories for their home as they want everything to be innovative. This craze should not stop till your bathroom door step. Most of the people work really hard on the interior designing of their home but they leave their bathrooms when it comes to its interior. This is not correct as bathroom is also a part of your home and you should make it appealing and functional as well especially if you are having huge spaces for your bathroom. Try to utilize all that space in the most appropriate way. Following are some of the trending ideas through which you could give a luxury touch to you bathroom's interior.
Walls and floor
Marble and tiles are the finest options for the walls and floor of your bathroom. You can use same colored tiles for both or you can make a contrast as well to give it an appealing and enchanting look. If you are willing to give your bathroom a luxurious look then you should go for Roberto Cavalli tiles as they are available in several colors and designs. This luxurious collection of tiles will just blow your mind and will give the most captivating and sumptuous look to your bathroom. You can also hang different antique designs of fog free mirrors on walls to enhance the over look.
Sanitary fittings
For a luxury bathroom make sure that all your sanitary fittings are meeting the caliber of luxury style. For this purpose sanitary fittings Dubai offers you a great variety. You can go for wooden or marble toilet seat with minimal space coverage. On the other hand if you are having large space for you bathroom then you can add your wardrobe inside. This is quite facilitating as you would not have to worry about taking all your clothes and accessories with you before going to bath. Secondly you can fit a luxury bath tub inside which could be of wood or marble. You can also add shower just above your tub to make your bath more enjoyable. Make sure that all your sanitary fittings are coherent to each other in terms of appearance to give an overall appealing appearance to your bathroom.

General